NEWS & NOTES
From United Way of Greater Milwaukee & Waukesha County
Call to Action: Supply the Cycle
Because there's one period you shouldn't have to worry about in school.

Being a teen is hard. School, friends, extra-curriculars. Now imagine that on top of all that, you are experiencing economic insecurity-- and you've started to menstruate. Worrying about having access to menstruation supplies while at school can cause stress and negatively affect attendance and academic performance. Let's eliminate this barrier to learning.


How can you help?
Give.
Drop off new menstrual products at either United Way office, Milwaukee (
225 West Vine Street
) or Waukesha (
2717 Grandview Blvd
), or have them shipped directly to United Way via our
Amazon wish list
.
Donate a Period Pack for $10. This will include a toiletry bag already filled with a variety of menstrual items for a student.
Donate now!
Donations accepted through June.
Advocate.
Host a supply drive and encourage your network to donate.
See tips on how to host.
Volunteer.
Tuesday, July 16, 4:00pm - 6:00pm
Once all donations are collected, please join us at United Way's Johnson Controls Volunteer Center to assemble 1,000 Period Packs for students at our Milwaukee Community Schools.
Register today!
Questions?
Contact Mimi Laflin at 414.263.8136 or
mlaflin@unitedwaygmwc.org
.
Do you know an outstanding philanthropic individual in the Greater Milwaukee and Waukesha County area? Tell us their story! The Emerging Leaders Philanthropic 5 Awards recognize community leaders in their 20s, 30s, and 40s and one Philanthropic Youth that have made extraordinary commitments to our community.
Nominate a local hero today!
Thank you to event sponsor BMO Harris Bank!
New to Milwaukee, Necole and her children struggled to find crucial resources like food and transportation.
"I didn't know anyone," remembers Necole, who was also struggling in an abusive marriage. "There were days when I just wanted to give up."
Then, Necole met Shyrida at Silver Spring Neighborhood Center, a United Way partner on Milwaukee's Northwest side... and everything changed.
Read the full story
here
.
Have you been helped by a United Way-funded program? We want to hear your story! Email Katie at
kkuhn@unitedwaygmwc.org
.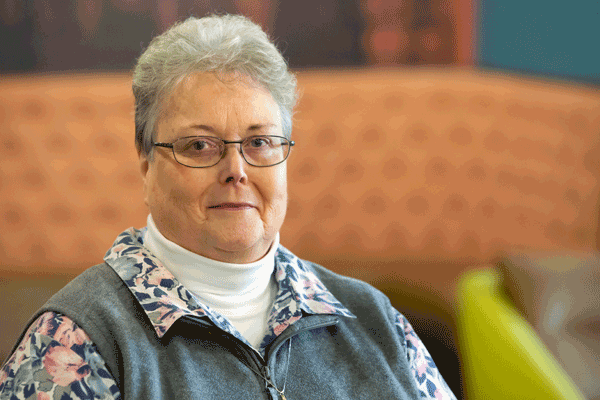 We couldn't do what we do without... Gail McCarthy
At United Way, we are blessed with a passionate and committed team who go above and beyond every day to help those in need in our community. But a lot of our team works behind the scenes...

Gail McCarthy, who has been with United Way in Milwaukee for 34 years (!!!!!!!!) supporting agency partners in United Way's Community Impact Division, recently came to the rescue during Denim Day, an annual event honoring survivors of sexual assault.

UW: Gail, tell us about the Denim Day bags... what happened this year?

Gail: For each Denim Day, we create small denim bags that usually include a stuffed animal and some soaps, lotions, special hand written notes-- things that could help make someone know that they are cared for. These bags are then given to the Aurora Healing and Advocacy Services and are given to women after a rape kit has been performed to help begin their journey to recovery.

This year, the usual vendor we purchase these bags from was out of stock. While I have not done any sewing for 20 years, I thought these would be "easy" and agreed to make 75 bags for this year. I brought out my sewing machine and realized that I was not even sure I could remember how to thread a sewing machine. But I was amazed at how much of my "Home Economics" class in high school came back to me! I created a pattern and the first couple I put together were hard, but I got into a rhythm and got them together.

My prayer is that they end up in the hands of a women who will feel the care and concern that we have for her during a horrible time in their lives.

UW: We love you, Gail!



Upcoming Events & Opportunities
Milwaukee & Waukesha Area Labor Council's 30th Annual Health & Hygiene Drive
Through May 31
In partnership with United Way, the Milwaukee & Waukesha Area Labor Councils are holding their annual Health & Hygiene Drive. Drop off new items at United Way's Johnson Controls Volunteer Center through May 31.
Learn more.
Equity Forward: Nonprofit Leadership Summit
Thursday, June 6 and Friday, June 7
United Way and the Alliance for Strong Families and Communities are excited to present the Equity Forward: Nonprofit Leadership Summit in our community. This two–day event will highlight equity work locally and nationally and address how we view and think about equity in your own spaces.
Learn more and register to attend.
Partnership MKE Applications
Through June 14
In partnership with the Milwaukee Jewish Federation and built on the legacy of The Mosaic Project (2000 – 2010), Partnership MKE aims to break down barriers and destroy bias by pairing individual community leaders across lines of race, age, religion, sexual orientation, and culture.
Apply today.
Day of Action
Friday, June 21, 1:00pm - 4:00pm
Join the Emerging Leaders Council and the LINC Committee for an afternoon beautifying Zablocki Community School.
Learn more and register to volunteer.
Retire United Volunteer Kit Packing
Tuesday, June 25, 11:00am - 12:30pm
Stop by the Johnson Controls Volunteer Center to pack care kits for low-income, isolated seniors in Milwaukee and Waukesha County and get information how you can be involved with United Way during your retirement.
Register today.
Backpack Coalition Warehouse Sorting
Multiple dates beginning July 9
Join our volunteer team at the Backpack Coalition warehouse at Health and Human Services in Waukesha to sort and inventory donations.
Learn more and register to volunteer.
Backpack Coalition Fill the Bus
Saturday, July 27, 9:00am - 3:00pm (multiple volunteer shifts available)
Fill the Bus is a huge one-day school supply drive for students in the community, held at nine different local Walmart locations. Volunteers are needed to help collect donations, inventory, and thank donors for filling the bus! Register to Volunteer in
Milwaukee
or
Waukesha
.