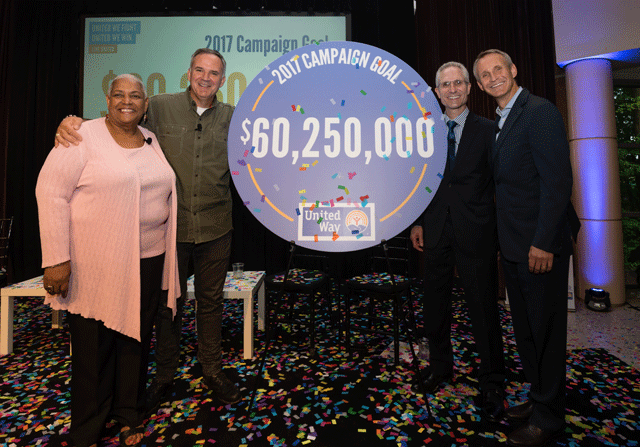 Yesterday, more than 300 community members gathered at the Milwaukee County Zoo to kick off the annual United Way Community Campaign.
Campaign co-chairs
Sheila Cochran
, Milwaukee Area Labor Council AFL-CIO Retiree;
Matt Levatich
, Harley-Davidson Motor Company;
Jay Magulski
, Landmark Credit Union; and
Jonas Prising
, ManpowerGroup, premiered the 2017 Success Story videos, shared exciting new United Way initiatives and developments, and unveiled the 2017 Community Campaign Goal: $60,250,000.
Now it's time to get to work. United, we fight for those who need a voice, and for those whose names we do not know. No matter the obstacles, no matter the odds, we surround the community's most critical problems…and we fight.
To live better, we must Live United. How will you be part of the story?
SHARE
Did you attend the event?
Check out our Facebook photo album
and tag yourself!
Get those tissues ready! Watch the
2017 United Way success story videos
and share with your friends and family.
Or
read and share
the 2017 stories here.
ENGAGE
Never miss an opportunity to impact your community. Connect with us on
Facebook
,
Twitter
,
LinkedIn
, and
Instagram
. Use #LiveUnited.
LEARN
Subscribe to United Way's
Living Local podcast
to learn about United Way initiatives, non-profit and corporate partners, and the issues affecting our local community.
Read more
about the work of United Way of Greater Milwaukee & Waukesha County.
GIVE
Your gift to United Way's Community Fund, strategic focus areas, or community-wide initiatives ensures that your donation is invested where the need is greatest.
Donate today.
Upcoming Events & Opportunities
United Way's Season of Caring 2017
August – December 2017
Create a workplace team to get out in the community or coordinate an on-site activity and volunteer together!
Browse opportunities.
IT United Member Connect
Wednesday, September 6, 5:00pm – 7:00pm
Gain insights from technology entrepreneurs on how to accelerate the growth of our local startup ecosystem.
Learn more and register.
Retire United Connection: Preparing for Unexpected Costs
Tuesday, September 12, 10:00am – 12:00pm
Join Retire United to hear from local experts on preparing for unexpected costs.
Learn more and register.
Milwaukee LIHF Quarterly Convening
Tuesday, September 12, 5:30pm – 7:30pm
The Milwaukee LIHF Collaborative is dedicated to improving community conditions that support healthy birth outcomes. All are welcome to this meeting to learn more and get involved in the work of Milwaukee LIHF.
Learn more and register.
LINC Event: Good Deeds & Pulling Weeds
Saturday, September 16, 10:00am – 2:00pm
Join LINC at Vision Forward Association to work on outdoor beautification projects. Lunch, beverages, lawn games, and a tour to follow!
Learn more and register.
Success Starts Here! Men's Conference
Tuesday, September 19, 8:15am – 4:00pm
Male volunteers are needed for this free, one-day life and job seminar for local men looking to develop professional skills, find a job, or explore a new career.
Learn more and register.
Ready. Set. Work! Waukesha Women's Job Seminar
Friday, September 29, 8:00am - 3:00pm
Save the date to volunteer for this free seminar for women looking to reenter the workforce, explore a new career, and build confidence.
Register to volunteer.
Project ReUNITED*
Wednesday, October 11, 5:30pm – 9:00pm
See and shop new designs from past Project Runway contestants while supporting United Way's Community Fund.
Check out designer Linda Marcus
talking about the event on TMJ4's The Morning Blend.
Get tickets.
Women United SPREE*
Thursday, November 2, 6:00pm – 9:00pm
Enjoy a one-of-a-kind luxury shopping experience with a collection of local, women-owned retailers. Proceeds will benefit United Way's Community Fund.
Get tickets.
*Save $30 when you buy tickets to both events.
Learn more.
Project Homeless Connect
Thursday, October 19, 10:00am – 3:00pm
Volunteer for a one-day, one-stop-shop event that brings resources and services to serve people experiencing homelessness.
Sign up to volunteer.