NEWS & NOTES
From United Way of Greater Milwaukee & Waukesha County
Mary Lou Young, United Way's former president and CEO, is passionate about ensuring local kids have what they need to thrive.
Mary Lou's Closet
opened last year in United Way's Johnson Controls Volunteer Center, conducting ongoing supply drives for local youth... and it's been a huge success!
Items collected so far:
• 2,798 youth undergarment items
• 625 winter clothing items
• 1,269 dental hygiene items

Upcoming drives:
• April-May: feminine hygiene products and deodorant
• June-July: school supplies
• August-September: undergarments and activewear
• October-December: winter clothing
Your donations must be new and dropped off at the United Way Johnson Controls Volunteer Center. You can also send your donations directly to United Way through our
Amazon Wish List
. Thank you to everyone who has donated!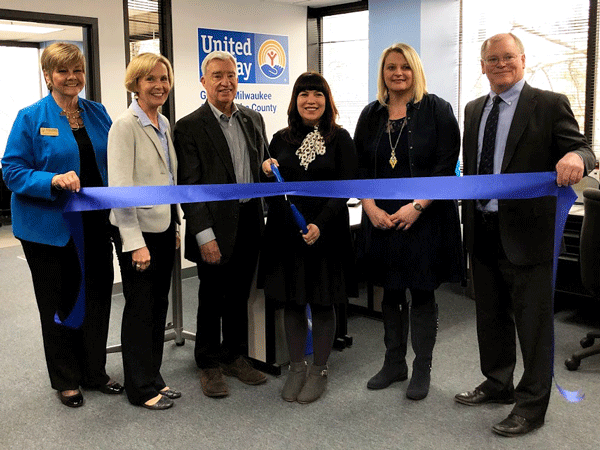 New United Way office opens in Waukesha!
We are pleased to announce the opening of a new United Way office location in Waukesha County. Located on North Grandview Blvd., United Way's office shares a building with the Waukesha County Business Alliance. We look forward to using this space to continue to strengthen our partnerships and investments in Waukesha County.



How do you measure the power of a job? On this month's Living Local podcast, we talk to three individuals working to reduce barriers to employment for others, or personally grappling with these barriers in their day-to-day lives.
Listen now.
In response to the My Brother's Keeper Community Challenge, United Way worked with the City of Milwaukee, Milwaukee Public School (MPS), and Employ Milwaukee to share the current work being done to uplift black and brown boys in our community and make the case for how additional funding will elevate our collective ability to achieve true, lasting change.
Read more.
Other recent blogs:
Upcoming Events & Opportunities
Nominate and Save the Date! Philanthropic 5 Awards
Thursday, August 8, 5:30pm
The Emerging Leaders Philanthropic 5 Awards recognize local leaders in their 20s, 30s, and 40s and one Philanthropic Youth that have made extraordinary commitments to our community. Thank you to event sponsor BMO Harris Bank!
Nominate a local hero today!
Field Day
Thursday, May 23, 12:00pm
Volunteers needed! Join United Way for an afternoon of activities focused on educating local students and teachers about developing a strong body and strong mind.
Learn more and register to volunteer.
My Very Own Library
Tuesday, May 14 through Thursday, May 16
Volunteers needed! United Way partners with Scholastic Inc. to host free book fairs for students at 14 local Milwaukee Public Schools.
Learn more and register to volunteer.
Women United Bruncheon
Thursday, May 16, 11:00am
Learn how Women United continues to invest in the lives of women and girls locally and hear from the Health Commissioner Dr. Jeanette Kowalik, on how her department is prioritizing maternal and child wellbeing.
Learn more and register to attend.
Partnership MKE Applications
Through June 14
In partnership with the Milwaukee Jewish Federation and built on the legacy of The Mosaic Project (2000 – 2010), Partnership MKE aims to break down barriers and destroy bias by pairing individual community leaders across lines of race, age, religion, sexual orientation, and culture.
Apply today.
Backpack Coalition Warehouse Sorting
Multiple dates beginning July 9
Join our volunteer team at the Backpack Coalition warehouse at Health and Human Services in Waukesha to sort and inventory donations.
Learn more and register to volunteer.