Your United Way
November 2016
7 Reasons to Donate by Friday!

Project LEAD: Giving Voice to your Passion

"My six-year-old daughter loves anything Chef Boyardee makes, but you couldn't tell since half of it usually ends up on our kitchen floor. A simple task can be incredibly difficult when impacted by cerebral palsy."

As the father of a daughter with special needs, Jesse understands firsthand the challenges individuals and their families must overcome every day. He is committed to advocating for resources and improving access to care for these individuals.

Read about his experience

and find out how

United Way's Project LEAD

helped make Jesse's passion for this cause a reality.

Apply for 2017 Project LEAD class.

Hope for the Homeless: Over 400 Served at annual Project Homeless Connect

Thank you to everyone who volunteered to help make this year's

Project Homeless Connect

a huge success. With your help we were able to serve an estimated 419 men, women, and children at this year's event.

"My heart sank. I looked away as 'K' and 'B' politely thanked the woman. At that moment, I felt myself begin to unravel."

Gerry Bournelis said volunteering at Project Homeless Connect changed her life.

Read about her experience and how it changed her.
Spotlight Campaign
Our friends at Milwaukee Area Labor Council pose for a picture during their Labor Kickoff for United Way. This year United Way is celebrating its 75th partnership with the AFL-CIO, with the theme "Labor of Love".

Double Social Spotlight
A. O. Smith Corporation and United Way of Greater Milwaukee & Waukesha County announced a partnership with Mayor Tom Barrett and the City of Milwaukee Health Department to provide Aquasana-branded water filtration products to city residents living in homes with lead service lines. Watch our
Facebook Live video
of the press conference for details!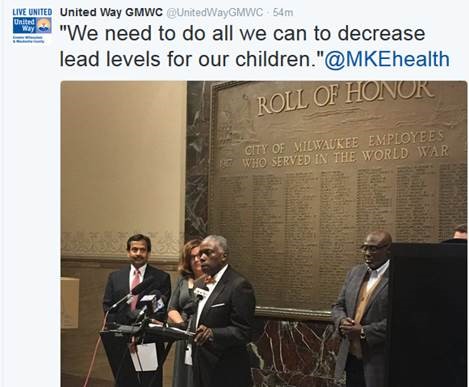 United Way's Teen Pregnancy Prevention Initiative makes
great strides in the last 10 years
.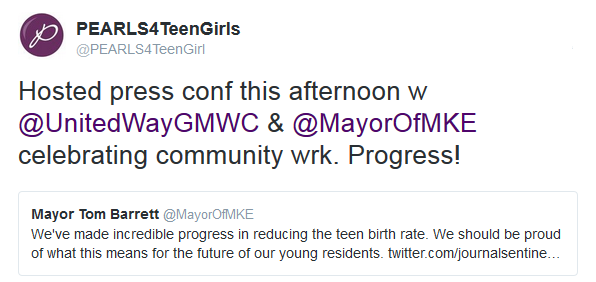 Events & Volunteer Opportunities

November Volunteer Opportunities
Looking for a way to give back this month?
Check out our November spotlight opportunities

Season of Caring
Volunteer projects available through December.
Find a project

LINC Holiday Event: Wrap, Wrap, Rap
December 1, Harley-Davidson Motor Company
Want to give back this holiday season? Help us make and wrap fleece blankets to keep Milwaukee's homeless teens warm this winter.
Register for this fun holiday volunteer opportunity

Campaign Closing Celebration
December 14, Badger Meter, Inc.
Join us for food and fun as we reveal our 2016 fundraising total and thank all who have helped us make a difference.
Register