United Way News: October 2017
Get Inspired at Project Homeless Connect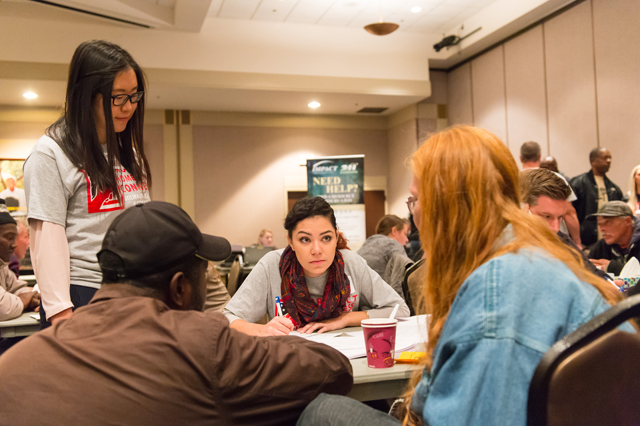 In the City of Milwaukee, nearly
1,400
people are experiencing homelessness.
Research shows that people experiencing homelessness have higher rates of acute and chronic illness. Further, children who experience homelessness are more likely to struggle with learning and developmental disabilities.
Milwaukee
Project Homeless Connect
is a one day, one-stop shop event on
Thursday, October 19 from 10:00am to 3:00pm
aimed at bringing multiple resources and services under one roof to better serve people experiencing homelessness.
Since 2014, United Way has been a proud partner in Milwaukee Project Homeless Connect, a proven, scalable model that has helped thousands of local men, women, and children.
HOW YOU CAN HELP
VOLUNTEER
at the 2017 Project Homeless Connect.
DONATE
by purchasing one or more items off of Project Homeless Connect's Amazon Wish List.
LEARN MORE
about Project Homeless Connect and why Marquette University opens their doors for this event every year.
Upcoming Events & Opportunities
United We Dine
Wednesday, October 4
Visit a
participating restaurant
for breakfast, lunch, or dinner and a percentage of the proceeds will go to benefit United Way's Community Fund!
Learn more.
United Way's Season of Caring 2017
August - December
Create a workplace team to get out in the community or coordinate an on-site activity and volunteer together!
Browse opportunities.
Virtual Volunteer Opportunity: Write a Note of Encouragement to a Veteran
October & November
Take a minute to write a quick note of encouragement to a veteran served by one of our program partners. You don't even have to leave your desk to do some good!
Learn more and write a note.
Project ReUNITED*
Wednesday, October 11, 5:30pm - 9:00pm
See and shop new designs from past
Project Runway
contestants while supporting United Way's Community Fund.
Get tickets.
Women United SPREE*
Thursday, November 2, 6:00pm - 9:00pm
Enjoy a one-of-a-kind luxury shopping experience with a collection of local, women-owned retailers. Proceeds will benefit United Way's Community Fund.
Get tickets.
*Save $30 when you buy tickets to both events.
Learn more.
The Milwaukee Food Scene: Community Sustainability & Giving Back
Emerging Leaders Panel Discussion
Tuesday, October 24, 7:30am - 9:00am
Hear from local restauranteurs on a range of food- and sustainability-related topics. Continental breakfast will be served.
Learn more and register.
Getting Ready for the Real World Mentoring Series
October 25 & November 29
Join the Women's Leadership Council at James Madison Academic Campus (JMAC), a United Way Community School Partner. Volunteers will be matched one-on-one with students for candid conversations around professionalism, resume building, and preparing for interviews.
Learn more and register.
Ready, Set, Work! Milwaukee Women's Job Seminar
Thursday, November 9, 8:00am - 3:00pm
Are you savvy with resumes and preparing for interviews? Share your experience with local women facing barriers to employment. One-hour, morning, or afternoon shifts available.
Learn more and register.
Make a Difference Day with Interfaith Older Adults
Saturday, November 11
United Way is partnering with Interfaith to match volunteers with older adults who need help with their yardwork this season. This is a flexible-schedule opportunity.
Learn more and register to volunteer.